Entry Form (PDF file 220kb)
The Tall Ships Atlantic Challenge 2009 will start in Vigo, Spain from where the fleet will race to Tenerife in the Canary Islands, en route to Bermuda. The fleet will then voyage to Boston, USA for a series of races and cruises-in-company north to Halifax, Canada. From there the fleet will race back across the North Atlantic to Belfast, Northern Ireland.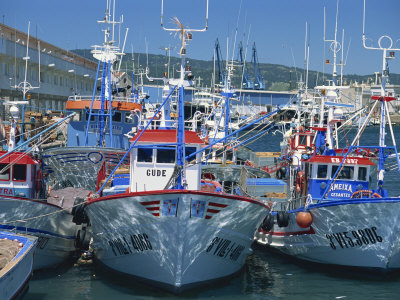 Fishing Boats in Harbour at Vigo, One…
Maxwell Duncan
| | |
| --- | --- |
| Vigo, Spain | Thu 30 April – Sun 3 May |
| Tenerife, Canary Islands | Thu 14 – Sun 17 May |
| Bermuda | Fri 12 – Mon 15 June |
| Boston, USA | Wed 8 – Mon 13 July |
| Halifax, Canada | Thu 16 – Sun 19 July |
| Belfast, UK | Thu 13 – Sun 16 August |
Ports in the USA are currently being finalised for this phase of the event. We are evaluating the possibility of a gathering port in the Channel or Western Approaches and will consult with the fleet in due course.
A Notice of Race is available to download above, with a more detailed event brochure due out towards the end of 2007. The Race Entry Form will be issued during the course of the winter.
For further information please contact the Race Director, Paul Bishop by phone (+44 239258 6367) or email: Paul Bishop
A specific website for the Tall Ships Atlantic Challenge, www.tallshipsraces.com/atlanticchallenge, is being developed and will be live in mid November.