0
If you have ever wanted to sail alone in a small boat around South Africa, then Stig Lundvall's story of life adrift on the ocean without a mast in a small yacht just might keep you on land.
Lundvall, a 66 year old Swedish sailor left Falmouth in England in July last year apparently "on the way to Australia or New Zealand". Now, that is a fair way to go by plane, but alone in an 8 metre yacht is epic stuff.
Lundvall was not heard of again until picked up by a Greek ship off the coast of KwaZulu-Natal, South Africa in April this year. The rescue coordination centres of at least four countries had been on the alert for him since a friend had contacted them in February worried about his whereabouts.
It appears that he set sail from England in his small yacht with only a VHF radio and a few flares. He expected to get to Australia in February so his lack of communication sparked the enquiry to the rescue centres in South Africa, Reunion, Australia and New Zealand, through whose waters he might have been expected to pass.
Most people who set off in small yachts have a long range high frequency radio they can use to contact shore stations, get weather updates and even send emails to and fro on a regular basis. They also normally have an emergency position indicating beacon, or epirb, which can be set off if there is an emergency. All modern epirbs are registered with the ship's name and owner and transmit information directly by satellite giving the exact position where the emergency is taking place.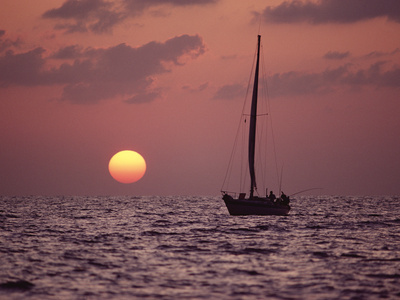 Sailboat Adrift at Sunset, Sri Lanka
Flip Nicklin/Minden Pictures

It is still not known why Mr Lundvall decided to take off without adequate safety equipment.

He apparently hit an unexpectedly bad storm several hundred miles from Durban after already passing the two notorious capes off Southern Africa – the Cape of Good Hope and Cape Agulhas.

The storm lashed the yacht in the middle of the night and it lost its mast. Without this, Lundvall was unable to sail and the little yacht was at the mercy of the sea and the currents.

The next eighty days saw the sailor drift around in circles, with an ever diminishing supply of water and other supplies. He did manage to get a jury rig organized after quite a struggle, but it was unable to help propel the boat in the direction of Durban or Richards Bay, the two closest safe ports.

With his mast down, his VHF radio was also inoperable, leaving him with only the few flares to alert any passing ship of his plight.

This he did twice with no success, and he was at low ebb, having lost nearly twenty kilos when he was able to attract the attention of the third ship that he saw with his very last flare.

He said that he was pretty amazed to see the huge ship slow down, then stop as he was almost about to give up hope. The Greek registered ship plucked him off the yacht and took him to Cape Town.

Back on dry land in his home town of Västerås, west of Stockholm, he admitted that he felt as if he was walking like a drunk still and would take quite some time to regain both his normal weight and health.

When asked whether he would take off on the water again, he said that he would, but wouldn't try to cross another ocean!





May 4, 2012 | Alison Williams