0
The age of sail as an epoch may be over, but there is still a fascination with the graceful tall ships that still sail our coasts and oceans. They some how seem to inspire feelings of romance and adventure.
This summer is no exception, as many celebrations that will take place along the coasts of America will allow residents the chance to admire at least one of these swans of the ocean.
In the region of the Great Lakes, eager captains will respond to a maritime war that for 200 years has been absent. In Miami, an impressive Spanish vessel will sail into port to rendezvous with the 500th birthday celebration. The West Coast of the U.S. will see the biggest tall ship festival, which is expecting more than 200,000 visitors.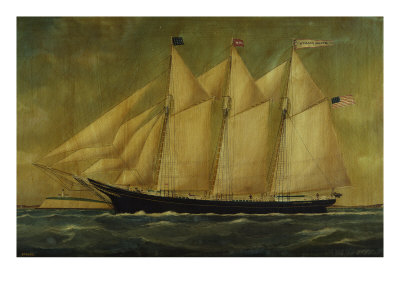 The Clipper William Mason
William Pierce Stubbs


Both now, and in the past, these boats are and were sailed by sailors who had no fear, and manoeuvred themselves manually without restraint up and down masts that tower 30 metres high into the sky. This is no easy feat as the ship pitches and rolls in the ocean swells and waves. The crew has to synchronize perfectly in order to release the enormous sails that have a width of 15 metres. In a good wind, these sails can confidently move a ship weighing in at 400 tonnes through the water at modest speeds up to 30 kph.

The masters and crew of the tall ships of old were challengers and researchers, as they unravelled the mystery of the shape of the Earth, which was for thousands of years thought to be flat.

There is often a dark side to many things and they are often shrouded in secrecy. The slave trade soon became one of these. The great ships attempted to help in the building of nations by snatching people from faraway lands and taking them to a land that needed developing. These times have never been forgotten.

Today, with their displays of elegance, they show that wind power has, and will always be, a source of renewable energy. The courage and determination of captains and their crew succeeded in opening the door to world travel, which encouraged further explorers to unearth what was on the other side of the world.

There are 5 events taking place this summer off the coasts of America.
The highlight will most likely be the 1813 Battle of Lake Erie, which-celebrates its bicentennial re-enactment. This is to be the first opportunity in 200 years that so many ships will fire black gunpowder cannons against one another. It is the re enacting of the battle waged against the British, which let the U.S.A. secure its present frontier with Canada. The impressive "Sorlandt" from Norway will be present at the event. It is 86 years old and 210 feet in length.

Miami will be welcoming the Juan Sebastian de Elcano. The length of this Spanish boat spans a U.S. football field, at 120 metres. It acts as a training ship for navy midshipmen in the Spanish Naval academy. It was launched in 1927 and has since circumnavigated the world 10 times. The tall ship will show its presence in Miami as a way of celebrating 500 years since the discovery of what is now termed the Sunshine State. It will be in the vicinity in early May.

There are many more tall ships that will be attending these events and others up and down the two coasts of the U.S.A. With the constant discussions over renewable resources of energy, tall ships may never sink back into the past.

April 2, 2013 | Alison Williams