0
"Sailing boat, sailing boat, let go your lines and go now!" The voice from the canal control tower crackled over the radio and we did as we were told. We were the only boat to enter the 6.3 kilometre Corinth Canal which links the Ionian Sea between Italy and Greece with the Aegean. It took nearly an hour to motor at full speed against the 1 knot current between towering limestone walls only 25 meters apart to make the full transit.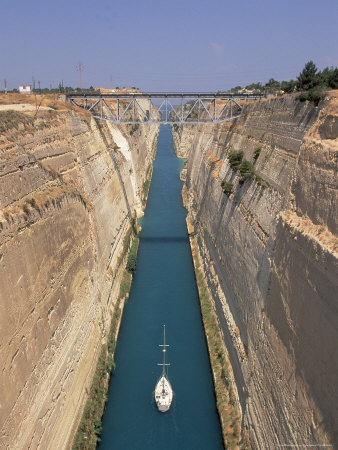 Corinth Canal, Peloponnes…
Walter Bibikow


The canal is a maritime engineering marvel to be sure. Cut through Greek territory near the site of ancient Corinth, it separates the mountanous Peloponnese from the rest of the mainland and effectively makes the former an island.

The canal certainly cuts down the time taken to make East to West passages or vice versa and eliminates the passage around the often wild and tempestuous southern capes of the Peloponnese, but one wonders why there are so few boats using the waterway today. Has this masterpiece of construction become a white elephant?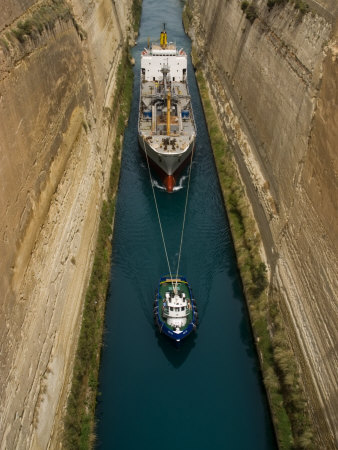 Ships in Narrow Corinth C…
Diana Mayfield


Corinth's power in the golden age of Greece lay in its key position controlling the passage by sea from the Ionian to the Aegean across the narrow isthmus or the landward passage from Greece proper to the Peloponnese. It takes little imagination to see why the construction of a canal occupied so many minds through the ages.

It was the building of the Suez Canal in the late nineteenth century which spurred the independent Greek government to finally make the canal a reality, but the result was a passage way so narrow that few modern cargo vessels can use it. Additionally, the earthquake prone territory and crumbly stone make maintenance of the canal an ongoing expensive concern.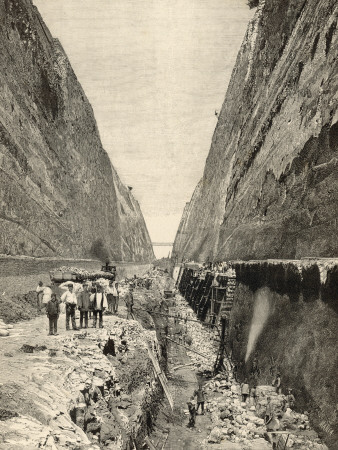 Construction of the Corin…


Today, the canal is more of a route for tourist traffic than a serious seagoing option for commercial craft. Large ships avoid the canal because they are either too wide or too deep.

"Sailing boat, go faster, go faster," the voice implored us. We were encountering the strong current and adverse winds that funnel through the canal that the canal is well known for. Now followed by an impatient fishing boat, it still seemed faintly ridiculous that there was any hurry. But the canal is a one way maritime traffic system – it is so narrow that boats can only pass through one at a time, with several vessels following in line at busy times. Larger ships which just fit must be towed through by tug boats.

Nowadays, about 10,000 boats use the canal each year, avoiding the 700 kilometres trip around the three southern capes.

Ahead we could see the last bridge still blocking our passageway out into the Gulf of Corinth. Several road bridges including a motorway bridge cross the canal high above the water and allow motorists and pedestrians a fascinating glimpse of the passing boats far below. Two bridges need to be dropped into the water to allow boats to pass and the passage is carefully controlled by the canal authorities.

Finally, we popped out from the canal into the choppy gulf waters and passed a small freighter and two yachts waiting to pass through the opposite way. Although the canal is reputed to be the most expensive to transit of any of the world's major canals per kilometre we reckoned the saving in time and diesel was well worth it. Perhaps the Corinth Canal was not such a white elephant after all!






May 22, 2012 | Alison Williams