Painter of Armenian descent, he was born in Theodosia (now Feodosiya), Crimea, Ukraine. He become famous for his seascapes paintings, which make up most of his work.
He began his studies at an early age. At 16 he enrolled in the prestigious Art School of St. Petersburg, Russia, where he received direct instruction from Vorobyov, a specialist in landscape painting. He went also under the tutelage of French artist Tanner, who was dedicated to marine painting.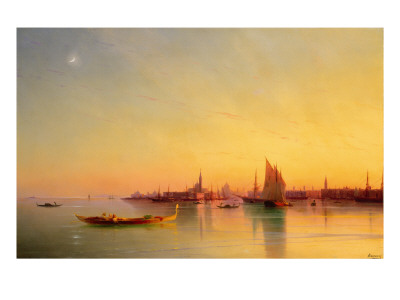 Venice from the Lagoon at Sunset
Ivan Konstantinovich Aivazovsky
After graduation, Aivazovsky traveled to Italy to further develop his style.
Aivazovsky's paintings of seascapes dazzled his European peers. In them his virtues can be appreciated in all its dimensions. He is a master in portraying the realistic motion and transparency of the waves and the magical color of heaven.
Some of his paintings are signed in Armenian letters, "Hovhannes Aivazian".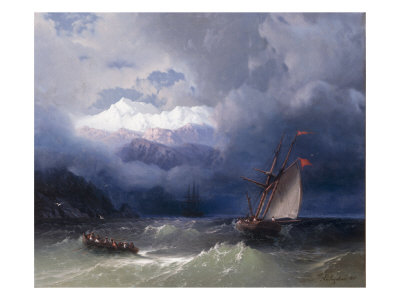 Shipping in Stormy Seas, 1868
Ivan Konstantinovich Aivazovsky
His talent as an artist earned him sponsorship and entry to the Academy of Arts of Saint Petersburg, where he graduated with the gold medal.
Before traveling throughout Europe, he painted a series of portraits of cities on the coast of Crimea, winning awards for his landscapes and seascapes.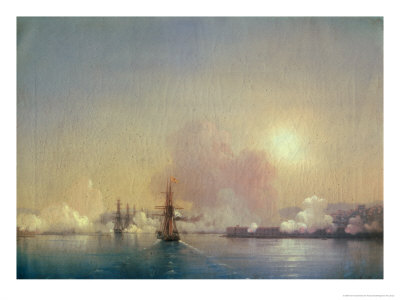 Arrival Into Sebastopol Bay, 1852
Ivan Konstantinovich Aivazovsky
Later on, his paintings of war scenes earned him a longstanding commission from the Russian Navy.
In 1845, invited by the of Sultan Abdul Mecid, Aivazovsky went to Istanbul, a city that he was to visit eight times between 1845-1890.
During his long stay in Istanbul, Aivazovsky was commissioned as a court painter for a series of portraits of Ottoman sultans, of which 30 are currently on display at the Dolmabahçe Palace and many others in various museums in Turkey.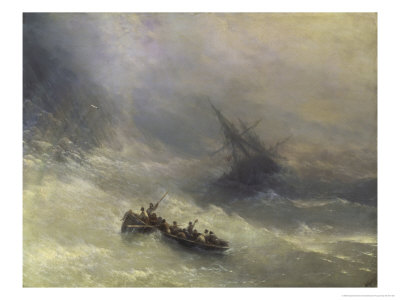 The Rainbow
Ivan Konstantinovich Aivazovsky
Because of its long life in art, Aivazovsky became the most prolific of his days. He left more than 6,000 works on his death in 1900.
With the funds raised during his successful career as an artist, he opened an art school and gallery in his hometown of Feodosiya.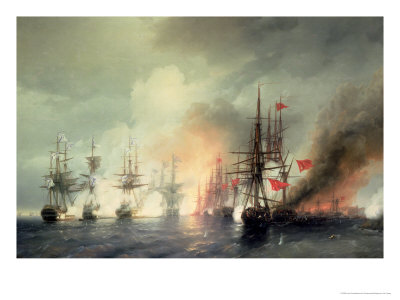 Russian-Turkish Sea Battle of Sinop o…
Ivan Konstantinovich Aivazovsky
<A HREF="http://ws.amazon.com/widgets/q?rt=tf_cw&ServiceVersion=20070822&MarketPlace=US&ID=V20070822%2FUS%2Favanziniphoto-20%2F8010%2F46569b28-6ed2-4d96-a1b5-d64d85f425bd&Operation=NoScript">Amazon.com Widgets</A>